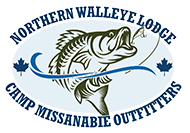 Located on Dog Lake, west of Missinaibi Provincial Park, north of Chapleau, Hawk Junction and Wawa in beautiful Northern Ontario lies Northern Walleye Lodge, a housekeeping fishing vacation destination. The waters of Dog Lake are fed by the Lochalsh River, Dog River & many small streams creating an environment that is nearly perfect for our sizeable population of Walleye, Northern Pike, small mouth bass, lake trout, burbot (ling), white fish, Herring (cisco), and brook trout.
Our guests arrive to waterfront cottages that range in size from one bedroom up to 3 bedroom and have all of the amenities required to ensure a comfortable stay. Come and enjoy our housekeeping plan and we'll work hard to make sure you have an enjoyable trip and leave with fond memories. Want a little more seclusion? Escape to our island cabin which is located about ¾ mile from main camp and has the best view of Dog Lake.
While we cater mainly to fishermen and hunters, our lodge is also large enough to accommodate a small to medium size conference group. Ideal for corporate retreats and team building activities your group can relax and get close to nature while still focusing on the corporate goals you have in mind.